Technology has always managed to help humanity and give us a hand in our daily tasks, including writing with the help of writing apps.
If writing has become an integral part of your life, you should know that there's more assistance for you on the device that you mostly use than you could have ever imagined.
Have you ever thought of writing, editing, proofreading, inserting annotations, and keeping track of ideas to be on a mere mobile device?
Well, mobile writing apps to the rescue!
We've handpicked the best mobile writing apps that are not just used but are highly recommended by writers.
Technology is all about making your work simpler and quicker. Why not use it to the optimum?
Tinker with the best writing apps for writers while you plan to bring your creativity into existence.
So, let's get into the process of making your life simpler and much more productive than before!
Affiliate Disclosure: This blog post contains affiliate links, and I receive a commission if you purchase through one of the links, at no additional cost to you.
Best Writing Apps For iOS and Android
1. Grammarly Keyboard
Price: Free app to use.
Available On: Both Android and iOS devices.
Ideal For: Students or writers looking for an excellent tool to correct grammar and spelling mistakes and improve their writing style.
Grammarly Keyword is an easy-to-use writing app for writers making it all the more efficient for mobile users.
The keyboard will check for all sorts of grammatical, spelling, and punctuation errors as you type text into your Written Document, Notes, or Mail.
Thus, you won't need to have a particular check on Grammarly anymore as the editing and re-checking job would be done as you type, saving you the extra time!
If you wish to check the text that you've typed manually, you can tap the 'G' icon and again click on the keyboard icon to get back.
Additionally, you can also adjust your keyboard settings like any other keyboard and choose the correct language under 'Language Preferences.'
No matter what you're writing: an email, a novel, a social media post, or a blog, this app has got your back!
Features
You can resize it accordingly on the screen.
Works towards making your message clear and error-free.
Available in a sleek dark theme for comfortable use in low light.
Acts as a handy personal editor that could be put to use anytime.
Grammarly Premium users will also be suggested vocabulary enhancements and other writing style improvements.
Pros
Easy-to-use setup.
You get access to Grammarly tools and suggestions.
This writing app is one of the best spellcheckers for mobile devices.
It adds an incredible amount of functionality to your device while keeping the original keyboard intact.
Cons
It does not work when your device is offline.
It isn't easy to access emojis and get rid of an auto-correct.
---
2. Google Docs
Price: Free app to use.
Available On: Both Android and iOS devices.
Ideal For: Writers and bloggers, dealing with personal or collaborative projects on word processors.
Google Docs is one of the efficient writing apps for writers to write, edit, and format text.
You can also share your writing pieces with a click or make shared folders that your team can view and manage in real-time.
The same shared document can be accessed by as many as 100 users simultaneously while any changes are reflected real-time.
Also, the interface is relatively easy to understand, and you can always rely on Google's helpful support options if you come across any technical issues.
The intuitive toolbar provides you quick access to the number and bulleted lists, fonts, spacing options, and other essential features.
Features
An online collaborative writing app.
The writing app provides you with automatic formatting for citations.
A document outline assists you with your work material on the left side of your screen.
You can share your documents quickly and make them accessible to multiple users at the same time.
Documents are stored automatically in the cloud, and you can download them to your device for offline use.
Pros
Google provides outstanding support and security options.
It is carefully designed for integrated workflows, supporting real-time collaboration.
It has the required amount of features to write, edit, and proofread documents.
Cons
This writing app comes with certain in-built formatting issues.
---
3. Evernote
Price: Free or $7.99/month premium subscription.
Available On: Both Android and iOS devices.
Ideal For: Students, writers, bloggers, and especially authors to note every detail related to their plot and characters.
Evernote is popularly known to handle notes in all formats, from PDF documents, text notes, scanned handwritten pages, images, audio clips, websites, and emails.
This writing app helps you make your notes and find them in a much easier way using Tags. It's the most efficient way of sorting your notes and arranging them meticulously.
Evernote also comes with advanced features making images more readable.
For example, if you include an image of a cake recipe, sign, or a business card, then you'll easily be able to search for the item as if you'd typed the text yourself.
Premium users are rewarded with the searchable option with PDFs and other documents as well.
Features
It can help you sort your notes effectively.
This writing app works with all kinds of formats.
The app also works with scanned handwritten notes.
It makes textual content searchable throughout the app.
Gives you an option to make sorted notebooks to arrange your writing pieces better.
Pros
Easy-to-use interface.
It helps you to organize notebooks, events, and writing sessions better.
Minimal effort required to search an image, card, and sign, once entered into the notes.
Cons
The free plan is very limited, with no availability of offline use.
Your writing must be neat enough in your handwritten notes for the computer to read it. Otherwise, the textual content is not captured effectively.
---
4. Microsoft Word
Price: Free app for writers to use.
Available On: Both Android and iOS
Ideal For: Bloggers, writers, students, authors, and anybody who wishes to write about anything and then keep a fine record of the same.
The interface looks like Google Docs, and you can easily create, edit, and review your documents using the Microsoft Word mobile app.
This app is one of the best writing apps for writers that can help you read comfortably on your mobile devices and have a look at every minute detail in a full-screen view.
The reading view option makes the reviewing process more straightforward and much more comfortable.
You can share the document with others and work as a team – responding to their comments or suggestions and applying these changes quickly.
Additionally, Microsoft Word is well-known for its beautifully designed modern templates, rich layout, and formatting options.
Features
This app helps you to create your projects with well-designed templates.
You can insert images, video, and audio clips in your documents too.
The interface is easy-to-use with a magnificent toolbar accompanying a writer from the start to the end.
You can invite others to review your writing pieces or share them with a few taps.
Pros
This app gives a similar look like the Desktop Office with all the tabs intact in the toolbar.
It supports features other than writing and editing such as tables, spell check, headers, footers, support for styles, footnotes, word count, etc.
You can keep working on your file even if your internet connection disappears as it automatically saves a copy of your work to Microsoft OneDrive.
Cons
There is no printer support.
The features provided are merely a subset of their desktop counterparts.
---
5. JotterPad
Price: Free or $0.99 per month.
Available On: Both Android and iOS devices.
Ideal For: Writers and authors to write novels and screenplays. Additionally, the app is perfect for bloggers as well.
JotterPad is one of the best writing apps if you are looking forward to streamlining your writing process, especially for screenplay writers, novelists, and bloggers.
Beginners can quickly shift from plain text to rich text with a quick click or highlight.
It's a tedious task for screenplay writers to align their writing work after exporting them to word and other platforms.
But JotterPad is here to get you fuss-free by converting your work seamlessly into other formats without going through the pains of formatting again!
At least this time, there's a high chance of your first draft being the final one for you.
Features
Bloggers can directly publish their work to WordPress and Tumblr.
The Fountain editor helps to format screenplays easily without any fuss.
It makes your writing process seamless with Markdown and Fountain syntax.
With just a single click, you can have your work checked against tools such as thesaurus and readability.
JotterPad's suggestions also help you to formulate comprehensive written pieces for your target group.
Pros
This app supports dark mode.
A word counter is also provided to you.
Allows you to customize your fonts as per your needs.
The no-distraction mode in the app helps writers genuinely stay in the zone.
Cons
Advanced features are Pro-only.
The free version comes with a PDF watermark.
---
6. MyStory.today
Price: Free app for writers to use.
Available On: Both Android and iOS devices.
Ideal For: Short Story writers and authors.
You can write novels and short stories using this mobile device to arrange your story in the form of chapters or scenes.
It's fun to use this tool as you won't even know when you managed to complete an entire book of your own while you'd just been on the couch at home all day.
There is an integrated corkboard where you can write down all your ideas and move this board around throughout your book.
Arrange your chapters and continue from where you left as and when inspiration comes.
You are likely to have a rough outline of your story by adding summaries to the cards on your corkboard.
Features
This app supports full-screen mode.
You can auto-sync your written prices to your smartphone device.
There is Corkboard support to provide an insight into the outline of your story.
You can get a quick overview of all your chapters by adding summaries at the end.
Text editor comes with spell check and basic grammar check apart from other formatting options.
Pros
You can easily manage stories with chapters and scenes.
Adding new chapters and scenes is pretty simple at any place in your story.
You can export your book to any word processor quickly.
Cons
The navigation is not intuitive.
There are few bugs with the available library.
---
7. StoryMirror
Price: Free app for writers to use
Available On: Both Android and iOS devices.
Ideal For: Writers as well as readers.
StoryMirror is one of the prominent writing apps for writers that has already built a community of millions of writers and readers on their platform who constantly contribute to daily quotes, poems, short stories, etc.
You get to read and write in different languages no matter what the genre is.
Moreover, StoryMirror is limited to stories and has a place for audiobooks, poems, and daily inspirational and motivational quotes.
The best part about StoryMirror is that they get your books published!
Yes, you heard it right: from cover page designing, editing, marketing to the distribution process of your book, they do it all for you.
Publishing and selling your book is made easy with StoryMirror, but if you wish to buy books or ebooks, this is a one-stop destination for you.
Features
You get free access to their top stories, top poems, daily quotes, and audiobooks.
We can write in multiple languages, and as of now, this mobile app supports ten languages.
You can buy and sell books on this platform, making it a single stop for you to wait and reach your destination.
Additionally, if you're an avid reader, then you can read millions of stories on this mobile app, all in one place.
Pros
A multilingual platform for writers and readers.
The interface is easy to use, and navigation is quite intuitive.
You have the option to bookmark your favorite stories and poems and save them to read later.
StoryMirror runs several writing contests for you to participate in and improve your writing style.
Cons
It takes a while to publish your content on their platform as they receive almost 20K stories or poems per month.
---
8. PenCake
Price: Free or $5.99 to upgrade to Premium.
Available On: Both Android and iOS devices.
Ideal For: Writers who are habitual of keeping a diary or a journal and also for those who jot their notes down on mobile devices.
Using PenCake, you can keep all your stories neat and beautiful in numerous categories such as travel, memos, novels, thoughts, daily life, hobbies, and so on.
You can reminisce the beautiful moments of your life by keeping track of them in the form of pictures and videos on this app.
With their minimal user interface, it's easy to write and meticulously arrange all your written places.
Additionally, you're never going to miss any data as your progress would be directly synced with Google Drive.
If you're a premium user, you have some amazing features like night mode, various fonts, auto-sync, and security by incorporating your Face ID/ Touch ID.
Features
You can export your stories as txt and zip.
We can easily align our written content left and center.
High readability due to the clean and minimal user interface.
It is convenient to add photos and videos to different folders.
The app has an extended keyboard that helps you navigate paragraphs, enter the time or a bullet.
Pros
The app has no ads, even in the free version.
The minimalistic design is perfect for helping you sort your notes.
It has some basic typing features such as bold, italic, and hyperlinks that make your content look better.
Cons
The dark mode is available with the premium subscription only, making it difficult for free users.
---
9. Story Plotter
Price: Free and $4 per month for premium features.
Available On: Both Android and iOS devices.
Ideal For: Writers or authors who wish to create a strong plot using their stored ideas.
With this one of the best writing apps by your side, you can any day create a splendid plot for your novel, manga, drama, movie, and so on.
Your story is bound to have an exciting screenplay with the app's plot creation function.
The plot function is undoubtedly the best thing an author can ever be equipped with.
It provides you with a quantitative estimate about how much your story has deviated from the ideal line.
Also, this app lets you know about the percentage of a particular chapter as a whole.
In addition to this function, you have some essential features like story order changes and character correlation diagrams to support your story's character and theme setting.
Features
You can create character relations using the character diagram.
The app comes with additional features such as the dark theme and passcode.
You can easily detect the story length by the percentages towards the left side of the screen.
You can give each character's background sufficient time and come up with a powerful plot for your novel or screenplay.
Pros
You can use tags and colors to segregate plots with different ideas.
Story Plotter throws questions and descriptions at you to help you get to the satisfying end of your story.
Cons
It may seem difficult to use for a beginner due to its complex directions.
---
10. WordPress
Price: Free app for writers to use.
Available On: Both Android and iOS devices.
Ideal For: Writers and readers who wish to create and consume content through blogs.
The power of publishing is not just restricted to your desktops now. It is in your hands and pockets.
The complete WordPress experience is brought to you at your fingertips as you can modify and post your blogs on the go.
The mobile app is one of the prominent writing apps that provides accurate stats to writers to know their views and visitors well.
You can go through these stats during your free time and find out where your readers come from.
Additionally, you can also visit your favorite sites and strike a conversation with authors, leave some beautiful comments, or like their work anytime, anywhere.
Adding an image or a video to your blog posts is just as simple as drag and drop.
The desktop version has been conveniently converted into a concise and effective mobile app.
Features
You can track your site visitors, likes, comments, and webpage views in the stats section.
WordPress themes give you a chance to customize your page the way you want it to be.
You get access to plugins that can be installed, activated, deactivated, or deleted at your convenience.
There is an adaptable editor wherein you can edit your text in HTML mode and add images, hyperlinks, and quotes to your work.
Pros
Great app for bloggers who can type it out and post anywhere.
You're provided with plenty of options when it comes to themes and editing tools to customize your website.
Cons
Even though all the desktop version features are present in the mobile app, they are difficult to use due to inadequate support.
---
Best Writing Apps For Android
11. Writing Prompts
Price: Free to use.
Available On: Android devices.
Ideal For: Writers who just need a spark to begin their writing journey.
Writing a full-fledged story is never too easy, and you're likely to stumble upon challenges.
However, Writing Prompts helps you get inspiration to broaden your story ideas.
You get access to 500+ prompts to begin your first line, 700+ stock prompts to find a plot for your story.
There are around 1000+ user-submitted writing prompts where you can gain inspiration from the community.
Writers are known to be creative, and this app has gotten on a mission never to hinder that piece of your skillset.
Features
Easy-to-use interface.
Prompts are shareable with friends and other fellow authors.
Get access to a wide range of writing prompts in different genres.
You get the option to choose and select the best category to base your story on.
Pros
It helps you overcome Writer's block.
This app constantly motivates you to come up with exciting storylines.
Cons
Some users have issues with In-app ads and a few bugs.
12. Writer Plus
Price: Free and $0.99 – $15.99 per month.
Available On: Android devices.
Ideal For: Writers, bloggers, and authors wanting to work on a no-distraction word processor.
Writer Plus is one of the fantastic writing apps that has several features to organize your work into folders systematically.
The app comes with smartphone-specific designs with minimal interfaces to let your words flow rather than cluttering your workspace.
Its essential features such as undo and redo, word count, and night mode have been reasons for excellent play store rating.
If you'll be using a Bluetooth keyboard, this creative writing app has excellent keyboard shortcuts for you.
Many features have been incorporated concisely to make the app lighter than Microsoft Word or Google Docs.
Features
It supports Bluetooth keyboard and markdown formatting.
Clean text editor that stores your files automatically on your device.
This app presents a minimalistic user interface where you can list your articles vertically on the screen.
It provides you with statistics like estimated reading time, word and character count by analyzing a text file.
Pros
This app is entirely free to use.
Easy to navigate throughout the app.
Cons
Your work is limited to local files.
13. Pure Writer
Price: Free or $3.99 for Pro Mode.
Available On: Android devices.
Ideal For: Writers and authors who find it surprisingly satisfying to write while lying in bed.
The app's winning aspect is its simple design which is far more convenient to leverage. A few advanced formatting options support it.
For example, if your character's name is Leonard, you type Leo every time, the writing app would automatically replace it with Leonard.
Additionally, all your written work gets seamlessly saved after every two seconds; if not, the user gets notified.
You get access to the preview mode, find & replace, and a custom theme option with the Pro Mode.
Additionally, if you genuinely want to go in your writing-hard zone, keep the app on its focus mode that will hide the status bar icons to offer you a distraction-free screen.
Features
You can unlock this app with your fingerprint.
Copying, pasting, bolding, italics, and other formatting tools are available.
When working in the app, you have the option to keep the screen on at all times.
You can add books having multiple chapters and categories and then club them together towards the end.
Pros
The free version has an abundance of essential features.
Everything gets linked to your Dropbox account, making exporting and importing simpler for you.
Cons
Rarely you may experience some bugs while using the app.
14. Novelist
Price: Free to use.
Available On: Android devices
Ideal For: Novelists and ebook writers who are looking for a great text editor.
Novelist is one of the perfect writing apps for authors to keep track of various writing processes such as plotting, wording, framing the setting, and exporting novels or short stories.
The material design user interface is a big yes-yes for writers.
Additionally, you're also offered multiple formatting options, a rich text editor, and Google Drive support.
You can include the big scenes in your story and have a glimpse into all such scenes using the app's timeline feature.
Its novel-specific features make it worthy enough to be used by novelists even though more of these features are available on Microsoft Word or Google Docs.
Features
This app supports output compilation in different formats.
You can get a preview of your book without leaving the app.
Tracks your progress from start to completion after you set a due date for your project.
It provides you with beautiful templates to choose and additionally, you can also create your own.
Pros
A great novel organizer with efficient storage.
It helps you to achieve your' word count' and 'time constraint' goals.
Cons
The tutorial at the beginning is recommended as it is a little confusing to navigate.
15. Writco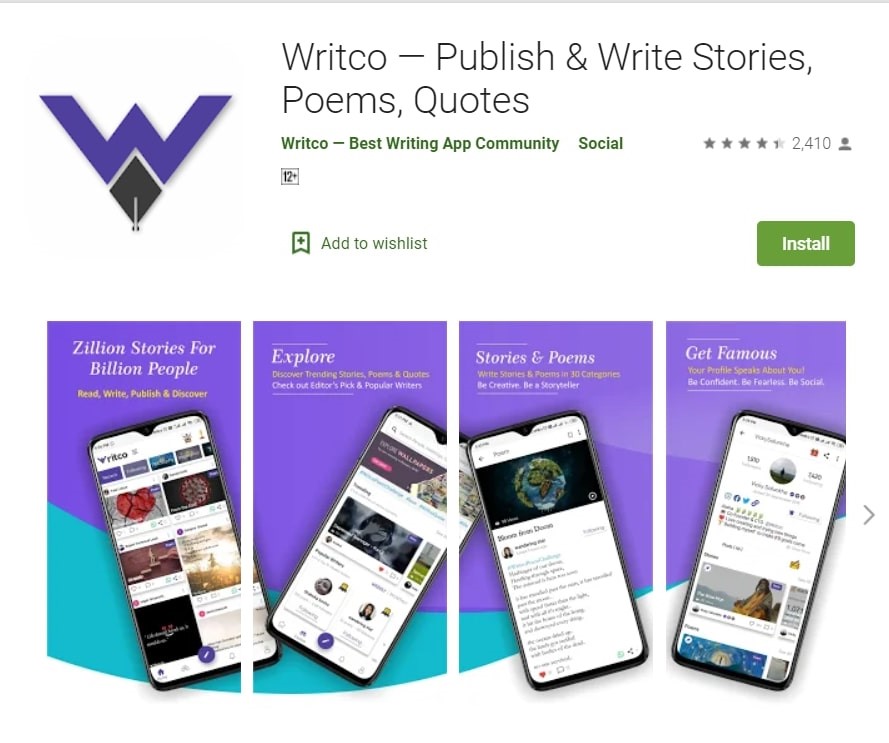 Price: Free to use.
Available On: Android devices.
Ideal For: Writers, readers, and authors who would like to write and share their thoughts, stories, and poems.
This app is one of the efficient mobile writing apps in the multilingual social writing space for writers and readers.
You can read, write, and share stories, quotes, poems in digital and book format.
Additionally, if you're an aspiring author, you can also publish your book with this platform.
There's no limit on the word count, unlike other apps. It supports a large amount of content, and your content's authority is duly given to you.
You can improve your writing style by participating in exciting writing challenges and win excellent prizes and cash rewards.
Features
The app supports 25 categories and 11 languages.
An audio translator does the job of reading out your stories.
It supports collaborative work by allowing you to invite buddy writers.
You can track the topics that you're reading or writing in for most of your time.
Pros
This app supports lengthier content.
Your trending posts can be marketed for absolutely no cost.
No fear of plagiarism, as you'll be given the legal copyright for your original writing pieces.
Cons
There's a lack of prompts available on the platform.
Final Thoughts
There are numerous writing apps available for you to explore, but you should know whether they would be worth your time.
These 15 writing apps are handpicked to add value to your blogs, stories, poems, and everything you jot down in your personal diary.
The effort I put into writing this informative blog post is to make your writing journey effortless and, till then, happy writing.
Check out the other article that I've written about: Best Book Writing Software.