Art magazines may serve as valuable sources of inspiration while enriching your career as an artist. With different magazine styles covering art, it may be a lot easier for you to find the one that suits your taste.
Whether you are into contemporary arts or prefer academic style, or merely want to develop necessary artistic skills, there's a perfect art magazine. Check out our best 10 art magazines that we have thoroughly researched according to genre and style.
Top 10 Art Magazines Chart 
What Makes A Great Art Magazine 
Sitting down with the latest magazine art publication and drinking a cup of coffee may be one of the favorite scenes in an art lover's everyday life. Whether you want to read a particular art magazine for appreciation or inspiration, this reading magazine is a vital part of your growth. 
If you are still searching for inspiration, an art magazine is a good medium to start with. So, what qualities should a great art magazine have?
A magazine's content must hit your needs. With its engaging content, you may get an emotional connection that makes you feel like it is particularly crafted for you. 
As you read the content, you may immerse yourself in your passion. This magazine-reader relationship may help ensure that you choose an essential source of inspiration for your next piece of art.
The best art magazines do not only provide great, engaging content, and they also create a rapport through conversational style. When you read the magazine, you may notice its distinct personality. Every single story or feature in the magazine is geared towards understanding your needs.
Balance Between Content and Design 
Readers expect that art magazines deliver quality design. However, good design may be essential in creating a complete publication package. Editorial content is also crucial for attracting and keeping readers. So, you may consider an art magazine that balances good content and quality design.
Perfect Blend of Content Experiences 
A fabulous art magazine may take you on a roller coaster ride of emotions. As you probably know, art does not only convey visual beauty; it also expresses emotions. So, the magazine should introduce you to different content experiences that deliver visual beauty and emotional connections.
Good magazines come with a consistent beat or rhythm. You may want to find your favorite columns or section easily. You may also want to have a sense of where you are in the magazine anytime.
One of the good qualities you may look for in an art magazine is the content presentation changes from feature to feature. Every magazine issue should give a consistent feel and familiarity but still offer fresh content experience and design.
Top 10 Best Art Magazine Reviews 
SchoolArts is an art education magazine with content geared towards promoting professional support, excellence, and advocacy for educators in the visual arts. This magazine is expertly written by art educators dedicated to other art educators.
This art magazine is known for its curriculum ideas and art education advocacy that art teachers may use in their craft. We find the content very interesting as it covers early childhood up to high school art education.
We noticed that each project level comes with all the essential information that teachers need for creating a practical lesson. All topics cover new trends for teaching arts with current issues to address.
If you are an art educator, you may get incredible inspiration from students' meaningful and creative work featured in this magazine. Magazine sections include "Snapshots," "Looking and Learning," "Media Arts," "Focus In," "Point of View," "ClipCards," and "Advocacy." 
Overall, SchoolArts is an excellent source of art education and emerging trends for teachers. It has something that every art teacher can use for creating and delivering exciting lessons.
When it comes to art and culture, Juxtapoz never disappoints us. Every time we read this magazine, we explore the art world's creative edges more deeply.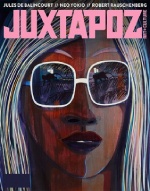 We love how this magazine displays different underground artists' work. Each issue includes photographers, comic book artists, graphic artists, sculptors, and painters, who are passionate about changing today's art and fashion world.
This art magazine focus on an audience ranges from teens to adults who are interested in outre. Besides great content, you can also find photos from exhibits and galleries and enjoy rare sketches and portfolios. 
Overall, Juxtapoz may be a good addition to your shelf if modern genre like street art, graffiti, illustration, hot rod art, and psychedelic is your cup of tea. This magazine also opens a world for discovering conceptual art, old master painting, assemblage, and pop art. 
Watercolor Artist may need to get a valuable source of instruction and inspiration. This magazine covers expert tips, art news, and even how-to in each issue.
Covering everything about water-based painting, Watercolor Artist is perfect for beginners. Each issue features helpful hints, step-by-step instructions, and artist profiles that can improve your work. This magazine is also ideal for experienced watercolor artists as it discusses new trends about painting with water-based paints.
We enjoy how the magazine focuses on basic and advanced techniques so that painters of all skill levels can catch up with its content. From painting techniques and tricks to tried-and-true tips, you can relate to each issue.
Overall, Watercolor Artists acts as a visual and non-verbal teacher for beginner and experienced watercolor artists because of the art materials, strategies, and tools. Besides, it also contains beautiful paintings, in-depth tutorials, and expert advice.
This is a trusted art magazine covering the art of jewelry making. You may also get helpful information about jewelry design incorporating beads, metal wire and sheet, gemstones, and more.
Each issue of Lapidary Journal Jewelry Artist presents expert advice, a section for one outstanding jewelry artist, and new trends. The content focuses on design ideas, materials, and techniques alongside clear and illustrated tips and directions.
* As an Amazon Associate I earn from qualifying purchases.
Whether you are a beginner or experienced artist in the field of lapidary, you can find an interesting magazine section that can further enhance your skills. The magazine covers interesting things about gemstones, rocks, mineralogy, metalworking, jewelry design, and gemology. 
Overall, this art magazine is interesting and informative. Each issue features an article about material or advanced techniques. It offers innovative design and how-to techniques. However, people who prefer an intellectual and historical approach to jewelry design and fabrication may not appreciate this magazine.
Pastel Journal is a nice art magazine that tightly focuses on pastel art. This magazine includes technical tips and tutorials, such as genre-specific animals and wildlife, figurative and portraiture art, floral and still life subjects, and landscapes.
We love how spotlights for an artist is presented in the publication. We also appreciate the generalized art topics such as market and business issues, composition, and creativity. While there are some product advertising, you may see them like almost content.
This magazine addresses the work of both passionate amateurs and professionals. It offers instructions and inspiration. Though-provoking essays, in-depth interviews, and information on exhibitions, contests, and workshops are other content that may help you improve your skills in pastel art. 
Overall, the Pastel Journal is excellent reading material for those focusing on pastel art. The publication offers useful information and incredible inspiration for amateur and professional pastel artists. It features stunning reproductions, artist profiles, and news about workshops, exhibitions, and contests.
In Southwest Art pages, you will encounter the work of the most accomplished artists in the Southwest. This magazine features all the glory, majesty, and color of the American Southwest art.
You will love this art magazine if you are into artistic images from the Southwest. Whether you want to start or currently collecting art, this magazine may help you find new collection prospects. Reading this publication makes you feel as if you are traveling to new artistic locations.
Each issue of Southwest Art offers top contemporary Southwestern artists' profiles and interviews. We also found guides and inspirational completed works, which we think may help your art collection journey. Tips and tricks for planning an art collecting trip are also featured in the magazine.
Overall, Southwest Art is the right choice if you are into an art collection. Many Southwestern art collectors and artists share their passion in this magazine. It will help make your art collection experience more meaningful and enjoyable than before.
Quilting Arts magazine focuses on art quilting enthusiasts. This contemporary art magazine offers new techniques and embellishments, which we think quilters with an artistic eye and passion for top-notch quality quilting will love. 
Each issue of Quilting Arts features tips and techniques, trendy and classic DIY projects, step-by-step guides, and photos of the machine- and hand-stitched art quilts. We enjoy how this magazine presented the beauty of quilting from every angle, from nature scenes and landscapes to creative portraiture and other innovative designs.
* As an Amazon Associate I earn from qualifying purchases.
As readers, we enjoyed learning how to fine-stitch by hand, create block prints, and paint fabric panels. You may also find other interesting articles, including mixed-media making, surface design and embellishment with thread, and advanced machinery use.
Overall, Quilting Arts are perfect for contemporary art quilting lovers. This magazine offers you the latest techniques and trends. You may also find new photos, advice, and instructions from renowned art quilters across the country.
Artist is one of the most beloved and oldest magazines that feature traditional work. This magazine is loaded with tips for artists of all levels. While it may slant towards more experienced painters and artists, beginners can still enjoy the entire reading experience.
Each issue features museum exhibits, interviews, and tutorials. This magazine contains helpful information about art business topics, special effects, painting techniques, among others.
We consider the artist as an effective how-to publication for amateur and professional artists. It includes concise and clear step-by-step instruction in pen and ink, pencil, acrylic, watercolor, and oil painting. You may also find reports on framing, selling, and exhibiting artwork, materials, and techniques.
Overall, the artist is a nice magazine option that is geared towards all artists. From painting techniques to art business topics, you may find content that is worth the read.
Art in America is another contemporary magazine on our list. The publication covers America's ever-changing art scene, from New York City to abroad. 
This magazine offers updates and critiques about photography, sculpture, painting, and more, which we believe will appeal to collectors and artists alike. While this magazine covers some art scenes abroad, it has a particular emphasis on New York City.
Apart from contemporary art fairs, Art in America also features event schedules, show reviews, art movement updates, and artists' profiles. You may get an inside look at the work through previews and interesting interviews. Up-coming artists may get inspiration from each issue, especially in the section for critiques.
Overall, the artist offers great attention to photography and design, letting you engage with every content. Each issue covers artists and works with an intriguing cover, which is often designed by commissioned artists.
The inked magazine focuses on rebellious luxury. This men's lifestyle magazine covers contemporary man's interests, including tattoos, entertainment, fashion, and gadgets. It is popular for its Inked Girls spread, where you can use a feature about beautiful women with unique tattoos.
Created for men who are tattoo lovers, each issue features the latest tattoo ideas alongside fashion advice. Whether it is your first time to get a tattoo or not, you may appreciate the tattoo ideas.
* As an Amazon Associate I earn from qualifying purchases.
Each issue includes unique tattoos, original and colorful tattoo photos by tattoo artists, and interviews with celebrities that share the same interest in tattoos. This magazine is also loaded with entertainment coverage and cutting-edge fashion advice. 
Overall, the Inked magazine is suitable for men audience who want groundbreaking commentary and unusual tattoo ideas. This magazine contains detailed articles about prolific artists, well-known icons, and tattoo cultures. You may enjoy all the in-depth articles, alongside luxurious tattoo ideas.
Related Article: Top 10 Knitting Magazines