If you correct your mind, the rest of your life will fall into place.
Search for "Keyword:
2859783687
,ISBN:
2859783687
, " ..
this may take at most 15 seconds ..
Our search for Keyword:
2859783687
,ISBN:
2859783687
, brought up 1 title(s), showing 1 - 1.
3 removed.
Sorting by
Price Ascending
.

Search for
"ISBN: 2859783687"
at
eBay
ISBN10: 2859783687, ISBN13: 9782859783686, [publisher: presses de l\'École nationale des ponts et chaussées] Softcover Livre Attention ! Ancien support de bibliothèque, plastifié, étiquettes. Merci, votre achat aide à financer des programmes de lutte contre l'illettrisme. Expédition depuis la France
[Paris, France] [Publication Year: 2003]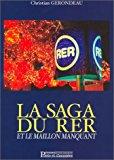 Show/Hide image
DISCLOSURE: When you use one of our links to make a purchase, we may earn a commission at no extra cost to you.
As an Amazon Associate, AddALL earn commission from qualifying Amazon purchases.
---
TOO Many Search Results? Refine it!